The world's leading chatbot solution for the automotive industry
Ripley generated 15,000 chats for 4 Automobile Classified Websites and over 250 Car Dealership Websites in the last 30 days, at a fraction of the cost of live chat.
Get in Touch
Trusted by over 250 companies for customer support and lead generation 24 hours a day.





Generate Leads at a Fraction of the Cost
We've been delighted with the results and have now rolled the service out to our entire network including both usedcarsni.com, carfinderscotland.co.uk
—Cecil Hetherington, Used Cars NI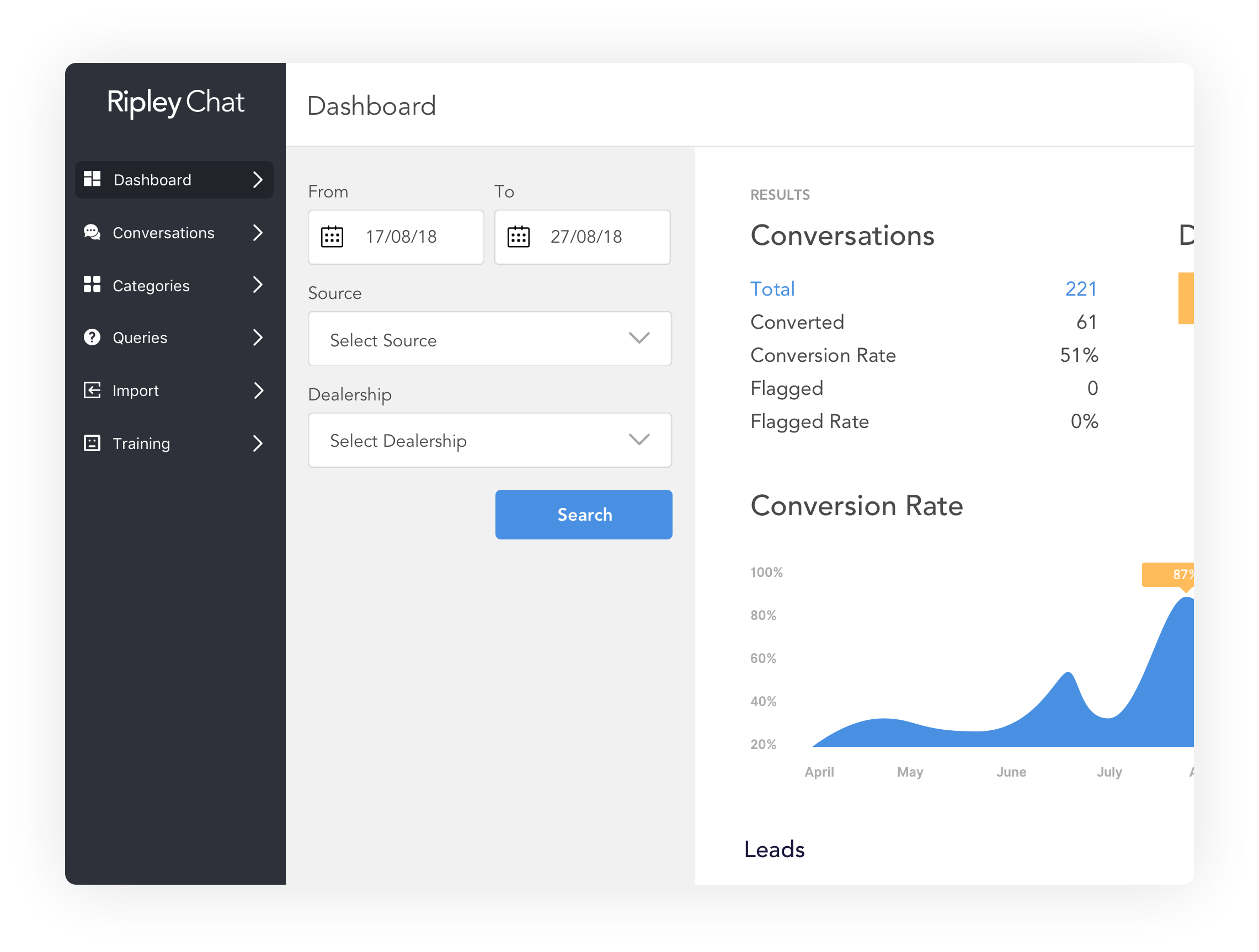 Built for Automotive Conversations
By focusing exclusively on the automotive industry, Ripley has developed a rich knowledge and ability to convert leads for classified sites. Ripley currently handles 15,000 chats per month and generates 7,500 leads in excess of those generated by phone and email on autoclassified and car dealership websites.
Metadata for Rich Conversations
Adding an additional enquiry option increases leads by 12-20%. Average increase in leads per month (above phone/email). Read the full case study of how UsedCarsNI.com saw an increase in lead generation from Ripley.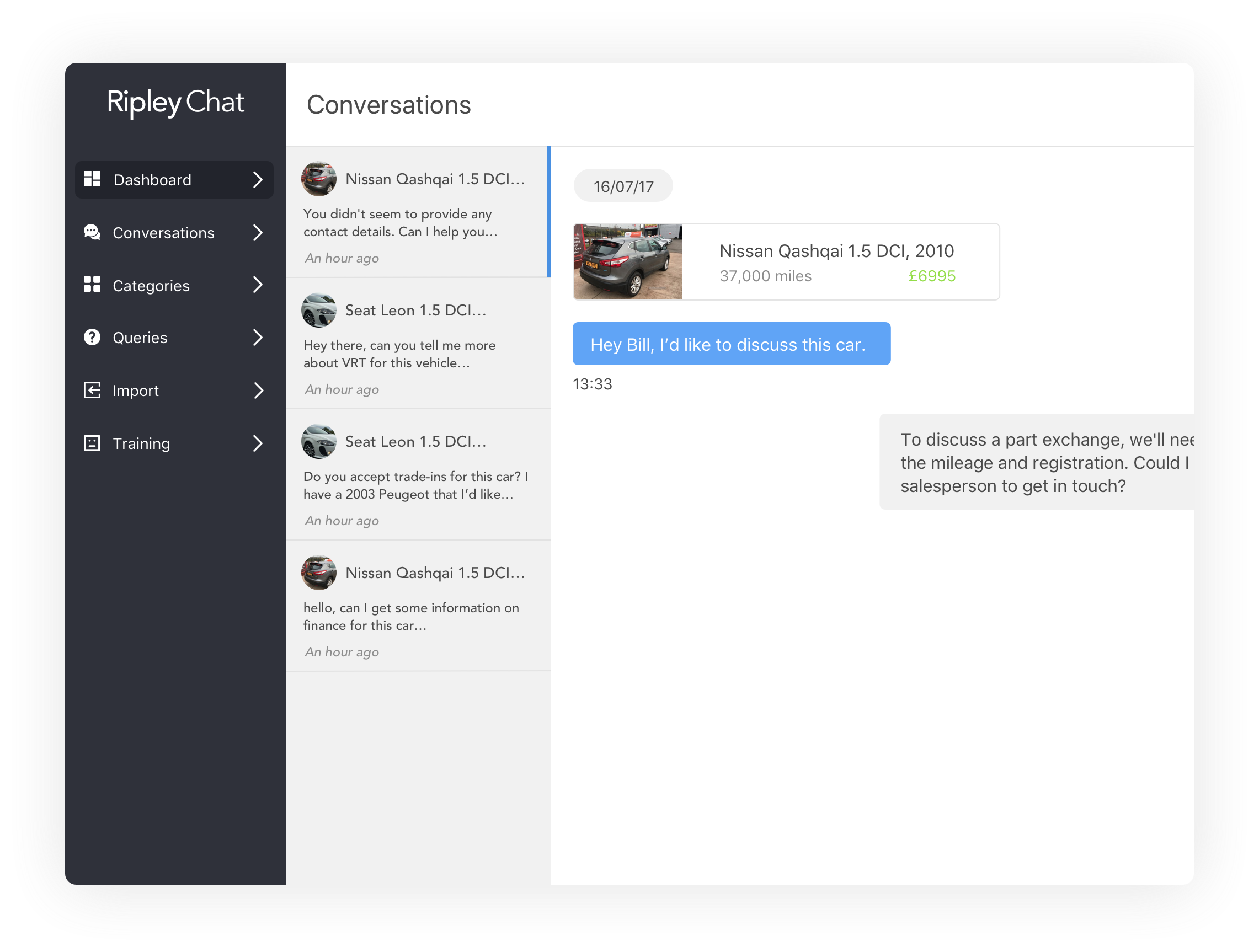 See what Ripley can do for you
Let Ripley allow you to capture leads and efficiently engage with them.
Get in Touch
Contact Us
"Ripley probably knows more car related answers better than most car dealers. It certainly beats any 'general' chatbot out there."
—Andrew Fulton, Dawson Andrews.

Features
Useful features over feature bloat.
A Dataset of Deep Automotive Knowledge
Advanced keyword and keyphrase algorithm allows Ripley to better determine which category best suits the customers message.
Converted Leads Straight to Your Inbox
Power your sales team with rich metadata. Or integrate with existing Dealer Management Systems.
Visitor › Leads › Sales
Ask visitors for their email or phone number to be notified of your reply if they leave a conversation open.
Exceeding Live Chat Conversion
It's hard to believe Ripley can beat humans to conversing with customers and generating leads....especially at a fraction of the cost.
Machine Learning Efficency and Understanding
The more conversations Ripley has, the more accurate its answers become. Ripley uses Natural Language Processing (NLP) to understand customer conversations.
Tone of Voice Customisation
You can customise tone of voice in greetings, conversation endings and much more. Chatbots can develop personalities that suit your brand guidelines.
Customer Insights
Collect demographic information about visitors using your live chat for high qualified lead analysis.
Manual Override
Take control of the conversation at any time. Take the steering wheel and speak directly to the customer.
Mobile and Desktop Responsive
Works across all iOS, Android and desktop interfaces.
Open API
Drop your chatbot into Facebook Messenger or connect to any of your systems with a few lines of code. We can help.
Live Insights via Customisable Dashboard
Watch live conversations Ripley is having in real time.
Testimonials
Don't just take our word for it, see how Ripley is helping our customers.
It is providing leads that include customers phone numbers, generating sales from people who want a response in real time which is beneficial as we obviously can't be available 24/7.

It's the new customer touch point that just works.

We find Ripley Chat an excellent addition to email. Email customer don't tend to reply as promptly as a live chat customer.

Being a small dealer we are not always at a computer to deal with live chat or e-mails. It is a very useful resource especially after hours, often leading to a quality sales lead providing us with an email address or phone number.

Easy Integration
Ripley's integration with your existing products is as easy as it comes. No long wait on your chatbot's time to market.

          
<

script

 type="

text/javascript

" src="

https://widget.ripley.chat/js/app.js

" />

<

script

>
  

new

 Chatbot({ teamID: "

128876

"})
</

script

>
        





Ripley is ready when you are
Let Ripley allow you to capture leads and efficiently engage with them, subscribe to keep up-to-date.